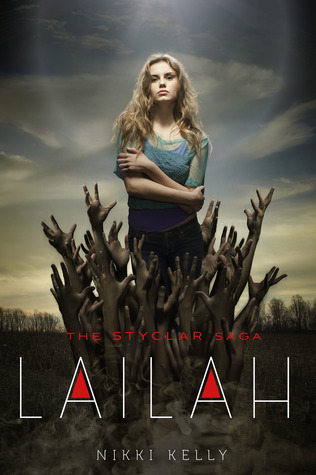 Lailah
(The Styclar Saga #1)
by
Nikki Kelly
Publisher: Feiwel and Friends
Release Date: October 7th 2014
Synopsis:

The girl knows she's different. She doesn't age. She has no family. She has visions of a past life, but no clear clues as to what she is, or where she comes from. But there is a face in her dreams – a light that breaks through the darkness. She knows his name is Gabriel.

On her way home from work, the girl encounters an injured stranger whose name is Jonah. Soon, she will understand that Jonah belongs to a generation of Vampires that serve even darker forces. Jonah and the few like him, are fighting with help from an unlikely ally – a rogue Angel, named Gabriel

In the crossfire between good and evil, love and hate, and life and death, the girl learns her name: Lailah. But when the lines between black and white begin to blur, where in the spectrum will she find her place? And with whom?

Gabriel and Jonah both want to protect her. But Lailah will have to fight her own battle to find out who she truly is.
For someone who does not usually read 'angel books,' I seem to be reading a few lately (
this
one last month and
Lailah
). And they are changing my opinion on the genre. Not only does
Lailah
have vampires, too, neither paranormal being is the typical, rote imagining we already know.
Nikki Kelly did a fantastic job imagining the angelic and vampiric lore, giving each a beginning, a history and more than a little something different from other incarnations. It is very enjoyable to see how their inceptions and the characters themselves play into each other's (and Lailah's) stories.
I liked Lailah from nearly the very beginning. We meet her working in a pub and the action starts right away. We get only a glimpse into who she is and what makes her not your usual girl before the story really starts and the paranormal is introduced. That glimpse, though, is enough to know that there's something different about Lailah and that she is not entirely sure what or why.
Discovering her story as she discovers it herself was the best way. The right things are left unknown or are yet to be discovered and each revelation is as intriguing and exciting as it should be.
That's not to say there weren't times I found her frustrating and/or wanted to yell at her because there were. All of those times still made sense with who Lailah is and what needed to happen plot-wise. It was the good kind of frustration.
There is a love triangle in Lailah and it was one of the few times I was okay with reading one . . . and even liked it. It isn't used as a gimmick or to lure more readers ('If you don't like Character A, well here's Character B!"). Here it really is used in the best way possible, to show us other sides to the character, things we - and possibly Lailah - would not get to experience with just one romantic interest. It is one of the very few times I can truly see the appeal of both characters.
Though Lailah is categorized as Young Adult, New Adult readers should also pick it up. While the content sticks with YA's PG-13 level (not NA's R), the age of the character as well as the maturity of the story will appeal.
In Lailah, Nikki Kelly has introduced readers to a richly imagined paranormal world and characters, Gabriel (The Styclar Saga #2) is one of my most anticipated 2015 releases.
Other Books You May Also Enjoy:
The Beautiful Ashes
by Jeaniene Frost,
Altered
series by Jennifer Rush and
Black City
by Elizabeth Richards
review copy received, through NetGalley, from publisher - separate from tour; thank you
Book Sp(l)ot Reviews: I would
love to know about your decision to publish on Wattpad and any benefits (or drawbacks) to taking that route to publishing (as opposed to the more 'traditional' one.)
Nikki Kelly: For those who don't know what Wattpad is, let me first throw out some info and stats:
Wattpad is a website (also available as an app), which is often referred to as the 'YouTube' of books! It's a magical, fantastic community of readers and writers. Last time I checked, Wattpad had over 24 million users, of which around 10% are writers uploading and sharing their stories. Members of the community chat daily via inbox messaging, message board posts, commenting within stories and of course in the many forums.
A large proportion of the community is teens, and around 35% of users are aged between 18 and 30.
My story, Lailah, is YA PNR, which is a popular category on Wattpad, and for this reason I felt that Wattpad was the perfect platform on which to present my story to the world and to see what kind of response it would get.
I was super lucky, as Lailah grew in popularity very quickly – within six months it had had over a million reads, and thousands of votes and comments. The benefits of sharing my work on Wattpad were vast: I connected with lots of writers like myself, and made tons of friends on the site – most of whom I still chat to regularly; I received such wonderful messages from readers about the story, which was fantastic and always made my day; it also helped me to build an audience for the story and the characters.
I really feel I've had the best of both worlds. By posting my story to Wattpad, I was able to connect with an international group of readers, receive feedback as they read through the story with their 'in-the-moment' reactions, and of course, I was able to see from the comments the elements of the story that caused the biggest reactions.
Lailah went on to get a traditional publishing deal with an amazing house, Feiwel and Friends/ Macmillan, and my dream of seeing a book I had written in hardback on the shelf of a bookstore was realized.
Everyone is different, of course, and everyone's dreams vary.
Some members post to Wattpad for fun, to share their stories with their friends, and are not looking for anything beyond that. Many choose to participate in the community initiatives, such as The Freshman Fifteens Program, which is spearheaded by Lori Goldstein (Becoming Jinn—Spring 15) and gives writers the opportunity to 'pitch' their short story. In this case, a number were selected to work with published debut authors on shaping their short stories to be collated into an Anthology. I have personally met writers on Wattpad who are not seeking a traditional deal; they want to remain Indie, preferring to retain full control over every aspect of their creative work. Some upload their stories to Wattpad to grow an audience there, and then sell their self-published works as ebooks or through print on-demand services.
Many established, best-selling authors use the site to further grow their audience and see Wattpad as a great opportunity to reach out to new readers. Some post their entire novel, upload sample chapters, and post short stories and do read-alongs. Others share the same dream as me, and hope to one day have their story supported and brought to the traditional market by a publishing house who can do what perhaps we alone cannot.
I don't see any drawbacks to publishing on Wattpad – only benefits – and in this connected world that we now live in, Wattpad provides a platform where you can write, connect with like-minded people and have a great time!
BSR: Thank you, Nikki!
I was born and raised only minutes away from the chocolately scent of Cadbury World in Birmingham, England. So it will probably come as no surprise that when I'm not dreaming in Vampires & Angels, I dream in chocolate! For the past ten years I have lived in West London with my hubby and two dogs, Alfie - the Pug & Goose - the Chihuahua.
LAILAH is my debut novel, and first launched in serial form to wattpad, a readers & writers community. Within just 6 months, LAILAH had over a million reads and thousands of comments and votes.

Since then, The Styclar Saga has gone on to pick up a traditional deal with Feiwel & Friends, and LAILAH, the first book in the series is due for release on October 7th 2014.

These days I spend my time balancing my amazing job of writing fantasy fiction, with my other, very important role of Chocolate Connoisseur. I like to multitask and do the two together. It makes me happy.
Win (1) hardback of Lailah by Nikki Kelly (US Only)
Also? FFBC is giving away
Lailah
during the tour week o their
Twitter