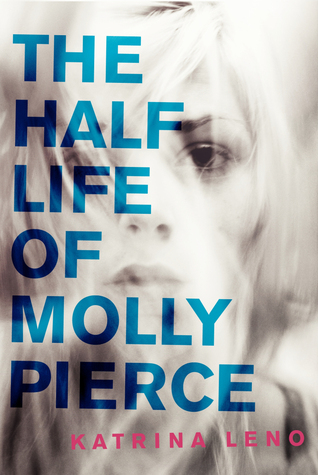 The Half Life of Molly Pierce
HarperTeen
July 8th 2014
234 pages
(purchase links after review)



Synopsis:
You take it for granted. Waking up. Going to school, talking to your friends. Watching a show on television or reading a book or going out to lunch.
You take for granted going to sleep at night, getting up the next day, and remembering everything that happened to you before you closed your eyes.
You live and you remember.
Me, I live and I forget.
But now—now I am remembering.
For all of her seventeen years, Molly feels like she's missed bits and pieces of her life. Now, she's figuring out why. Now, she's remembering her own secrets. And in doing so, Molly uncovers the separate life she seems to have led…and the love that she can't let go.
The Half Life of Molly Pierce is a suspenseful, evocative psychological mystery about uncovering the secrets of our pasts, facing the unknowns of our futures, and accepting our whole selves.
I wasn't sure what genre
The Half Life of Molly Pierce
was when I started reading it. Or even for quite a while after starting to read it. (So if you haven't read the synopsis yet, maybe don't? I liked reading this and not knowing what to expect.) Readers know from the beginning that Molly has been forgetting periods of time. She 'wakes up' somewhere with no recollection of how she got there from the last place she remembers or what happened in the intervening time.
While her reasons for not wanting to tell anyone about these episodes is understandable, it was also very worrisome. She doesn't just end up in a different room or on a walk in the park, Molly 'wakes up' driving, as well. Despite her understandable reluctance to tell anyone, this felt very dangerous.
The more we learn of Molly's story, the harder it is, at first, to be sure of why she's forgetting, of what's happening to her. As the pieces come together it makes quite a lot of sense. Though, I was still left with more than a few questions - about the 'danger' I mentioned above and the others in her life.
The Half Life of Molly Pierce
is a mystery where the main character's life is a mystery even to her. While we work towards Molly figuring out what is happening, author Katrina Leno builds a great character. Molly's emotions are described so well by Molly herself and we're given such a good look at who she is, what she's like. She is a character you really want to have hope, for things to be 'okay' for when it all comes together.
The characters (Molly's younger sister, especially), their relationships, Molly's forgetting and even how she later starts to remember, all combine for an intriguing tale that leaves you guessing and an ending that leaves you thinking.
Rating: 7/10
digital copy received through Edelweiss from publisher for honest review - as part of tour. thank you
"A smart, seductive page turner, deeply felt and full of surprises." (Madeleine George, author of The Difference Between You and Me)
"Unfolds its careful origami slowly and hypnotically, taking on one shape after another before finally revealing itself as something stranger and more beautiful than I'd anticipated. A moving, expertly wrought story that will keep surprising you past the last page." (Bennet Madison, author of September Girls)
"A Tilt-A-Whirl of a first novel, a breathtaking thrill ride that takes you in one direction and then spins you off in another, over and over, keeping you guessing with every turn of the page." (Michael Thomas Ford, author of Suicide Notes)
I am a writer from the East Coast, currently living in Los Angeles.
My first book for young adults- The Half Life of Molly Pierce- will be published on July 8, 2014 by Harper Collins.


Giveaway is open to US Only | Must be 13 or older to enter
Win A Half Life of Molly Pierce T-shirt (Us Only)